Private trip to Nelahozeves from Prague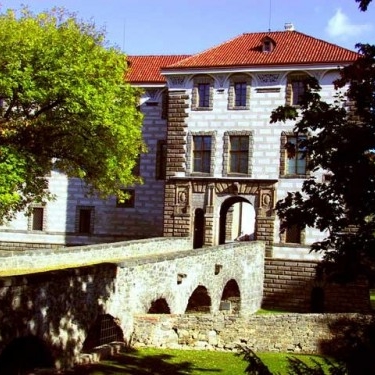 The monumental Renaissance castle of Nelahozeves is located high above the Vltava river. The castle was constructed in the mid-16th century by the nobleman Florian Griespeck of Griespach and remained in the property of the Griespeck family for only three generations. In 1623, the castle was purchased by Princess Polyxena Lobkowicz and has been owned by the family ever since. After the overthrow of Communism, the castle was returned to the Lobkowicz family in 1993. A new, permanent exhibition entitled Private Spaces: A Noble Family at Home was opened to the public in the summer of 2007. The objects presented span five centuries and include some of the most precious objects in the collections. Nelahozeves is also well known as thebirthplace of Antonin Dvorak, perhaps the most famous Czech composer.
This tour includes visit to Nelahozeves castle and it is also possible to visit the exhibition at birthplace of Antonin Dvorak.
Configure your Nelahozeves tour:
More about the Nelahozeves tour
Nelahozeves is a small town located about 25 km north from Prague. It is known as a birthplace of the Czech composer, Antonin Dvorak. We also recommend to visit the Nelahozeves castle.
Nelahozeves photos:
Sightseeing in Nelahozeves
The Nelahozeves castle originated as a newly erected building since 1553. However its completion was interrupted by the death of the builder in 1588. The outer facades, as well as some of the interiors, have been almost completely preserved. Among the preserved Renaissance spaces the most interesting is the Knight Hall, with a stone hearth and ceiling painting. The accessory to the castle is rich and one of high quality. Most of it comes from the castle of Roudnice, the main residence of the influential family of Lobkowitz who since 1623 owned also Nelahozeves.

The collections of the Nelahozeves castle contain an exceptionally rich picture gallery with works of famous European masters and one of the largest collections of Spanish portraits from the 16th and 17th centuries outside of Spain. Apart from the furniture (including exquisite pieces from 16th to 18th century) it is also possible to see, in the castle rooms, medieval reliquaries and other clerical objects, a collection of ceramics, artistic objects made of silver and other metals, silver dishes and old musical instruments.

Nelahozeves is the birthplace of composer Antonin Dvorak. His birth house now harbours the exhibition of his life and work.