Private trip to Sychrov from Prague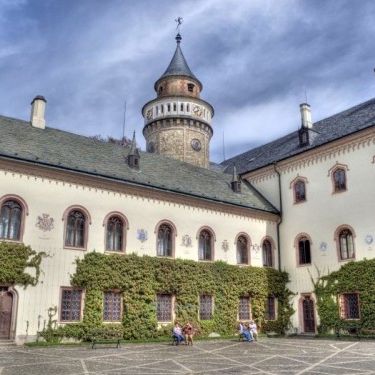 Since the 15th century, a fort existed in the place now occupied by Sychrov castle. In 1820 the Sychrov castle was bought by the family of Rohan, French aristocrats exiled by the French Revolution. A small, dilapidated, Baroque castle was rebuilt by the Rohans and finished in 1834. A second reconstruction (1847-62) put romantic Neo-gothic style into the castle, and this style remains today. The reconstruction was carried out according to the plans of Bernard Grueber, and all works were facilitated by domestic artists and craftsmen. The owner paid specific attention to the Castle Park, designed in the English style. The Sychrov castle boasts a collection of around 250 portraits of the Rohans, related families, and French kings. It is the largest collection of French portrait paintings in Central Europe. Sychrov hosts unique glass paintings by Jan Zacharias Quast.
The trip includes a vist to the Sychrov castle, the entrance fee is not included in the rate.
Configure your Sychrov tour:
Sychrov is a Neo-gothic castle located about 80 km north from Prague and it takes about 1.5 hours to get there by car.
Sychrov photos:
Sightseeing at Sychrov
The Sychrov castle in the northeastern part of Bohemia, belongs to one of the most important historic style manor buildings in the Czech Republic. The original Baroque manor from 1690 - 1693 was built for the knight Lamotte from Frintropp. The barons of Rohan bought the manor from the Waldsteins in 1820 and had the former Baroque building raised by one floor and soon afterwards further extensions were initiated. The most radical changes at Sychrov castle took place during 1847 - 1862 when the manor acquired its unique pseudo-Gothic style. The work was directed especially by Josef Provot who continued in the architectonic designs of his predecessor B. Grueber.

More than fourty rooms and halls with rich decoration are accessible in the Sychrov castle. The decorations have been made by a number of Czech craftsmen of whom we shall name at least the carver Petr Busek, author of richly carved panels of the walls and some of the ceilings. The Rohans collected an extraordinarily rich set of furnishings of which especially the paintings brought from France are of excellent quality. The portraits depict mostly the members of the Rohan family but also French nobility and even kings. The interiors of the Sychrov castle are furnished by precious furniture and added by collections of artistic works and objects, especially china and glass.