Private Prague excursion - Full-day sightseeing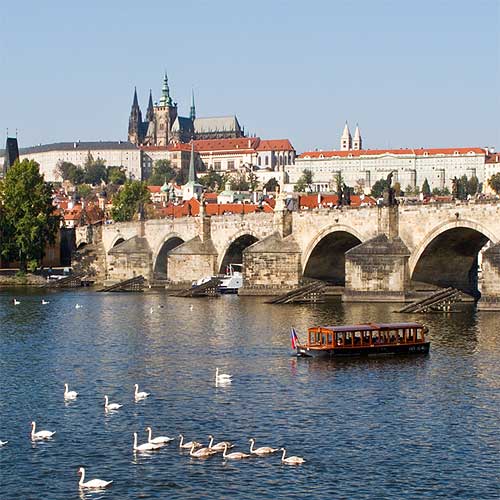 The 1st part of the detailed day tour of Prague is packed with all the best monuments and also some less known places. The 2nd part can be more focused on the area of your preference - please see the recommended sightseeing spots in Prague below.
Since most of the "city of 100 spires" was spared of bombings in WWII, we have no earthquakes and the buildings were mainly constructed using solid stone, you can marvel at the well-preserved and thoughtfully restored churches, palaces, and burger houses, some dating back to medieval ages. But Prague also offers splendid modern architecture which blends well with the old.
The 1st part of the Prague excursion includes a quick peek into the library of the Strahov monastery, the Prague castle (St.Vitus Cathedral, Old Royal Palace and St.George basilica), Charles Bridge, one of the Royal gardens and the Old Town, but we can customize the tour according to your preferences.
1st part: The best Prague landmarks
These are our recommended sightseeing spots in Prague for the first part of the excursion. If you are on a tight schedule, the majority of them can be squeezed into our half-day city tour. The 2nd part of the full-day excursion is described under this section.
!! If you add the entrance to the synagogues or Jewish museum, we may need to shorten some other program !!
2nd part: Choose an area of interest
After the 1st part of Prague excursion focused on the must-see sightseeing spots, the 2nd part starts. We can either stick to the standard plan below or you can let us know your preference and we can focus on the area of your interest (e.g. modern architecture, theaters, river cruise, classical music, etc.)
If you choose the option without a car, then only visiting the Municipal House will be feasible.
!! If you add the public tour of Smetana Hall, we may need to shorten some other program !!
Contents of the detailed Prague excursion
The tour ends either at your hotel, or we can recommend a restaurant for dinner (you can order an additional dinner transfer).